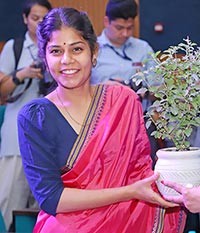 Dear Dr. (Mrs.) Amita Chauhan,
Super Congratulations to you for the success of Youth Power.
I cannot express in words, with what amazing sense of pride and respect I am writing this. Thank you for believing in me and making me able enough to contribute to such a great initiative as Youth Power, undertaken by you to sensitize the youth towards social issues.
Ma'am, I believe you must be aware of the impact you have been able to create through your leadership but I must tell the picture you are painting is way more beautiful than your imagination.
India, currently is standing at such a position where it needs leaders who are determined, devoted, empathetic and committed to bring the change and build a nation which is inclusive, equally progressive and harmonious. I was extremely inspired and amazed to see the process that a prestigious institute like Amity under your leadership has designed such a program to identify and channelise the power of 'You' to build leaders who are value driven, impact creators and change makera. Ma'am, the program has not only channelised the power of young adolescents, but the design and structure of program has so beautifully allowed the leaders to engage all the stakeholders, citizens of all groups irrespective of their social, economical and professional background to participate, contribute and get impacted.
Moreover, I would like to congratulate you for having built the team and young leaders who trust your vision and strive towards making it powerful enough through their wise actions, driving 'The Change' so brilliantly. From choosing the topics so diverse to ensuring holistic development, to helping leaders interact with think tanks and do ground check, their every step and action is leading to a ripple effect.
Ma'am, we truly need more leaders like you.
More power to you!
Karina Bhasin
Community Engagement Lead, Even Cargo & Delhi OYE
Jury member, Youth Power 2018-19
It's my proud privilege to be associated with a world class institution with the best infrastructure, innovative curriculum and a conducive environment. With a right blend of ethics and values, I am sure the students will accomplish their dreams and aspirations and turn out to be instruments and careers of change and peace in this world. The dedicated faculty are steadfast in their duties and contribute in their own way to creating a better tomorrow. Amity International School, Vasundhara, Sector 6 is driven by its motto 'Vidya Datati Vinayam' which aims at instilling the qualities of perseverance, dedication and a sublime sense of aesthetics.
I wish the staff and students great success and I am confident that they will work hard and take the name of their institution and country to the pinnacle.
Shri Kailash Chandra
Education Officer, NSC Delhi