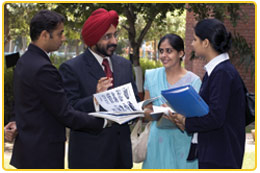 The unique Mentor-Mentee Concept at Amity ensures a constant interaction between the faculty and the students. A faculty member is assigned to a group of 5-6 students to counsel them on their academic and personal concerns. Their experience will help you gain the confidence and skills you need to be a corporate success.
At Amity, you will never feel away from home. If you encounter any problem during your tenure concerns about course work or personal / emotional problems, our USA and NIMHANS trained consellors will be there for you, as your confidantes and true friends.
The Amity counselling services have been set up where expert counsellors provide counselling to help students overcome their professional and personal problems.

Ragging Free Campus

Amity University Campus is Ragging Free Campus. Number of Anti ragging measures in place to ensure strict compliance.

Click Here to view "STUDENT HANDBOOK ON REGULATIONS / DIRECTIVE FOR BANNING RAGGING AND ANTI - RAGGING MEASURES 2013 – 14" of Amity University Noida Campus.