I would like to thank our esteemed corporate partners you and their respective teams for being influential in making our students industry ready and helping us in laying the robust foundation of their flourishing career through Campus Placements and many other College to Campus engagements.
The students of Amity are outperforming not only in the areas of innovation and research but at the same time are benchmarking in the industries and are getting recognized for their attitude, knowledge & ethics. Year on year this is becoming possible only because of the effective inputs of Corporate Gurus like you and the rich amalgamation of rigorous course curriculum followed at Amity and the set of Basket Courses covering one Foreign Language (French, German, Japanese, Chinese, Russian & Spanish), Behavioral Science and Communication Skills taught as a compulsory subject during the entire academic voyage of students.
I wish to take this as an opportunity to invite industries for Campus Recruitment, Engagements, Events, Tie Ups, Promotions, Student Exchange, Internships, Joint Research, Development Programmes and Collaborations (any other activity) with Amity Education Group.
I am seeking your continued support and invaluable contribution in shaping the future of young India.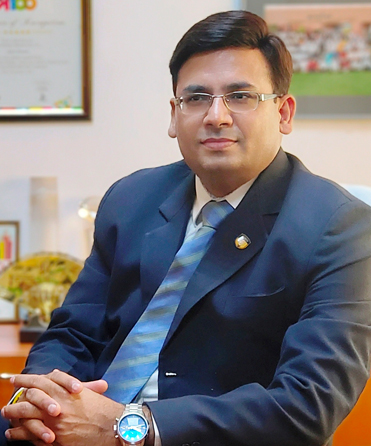 Prof (Dr.) Ajay Rana
Ph.D (CSE) & M.Tech (CSE) - Two Time Gold Medalist
SMIEEE , MIOD , SMIAENG, SMIACSIT, LMISTE, LMPF, LMCSI & MIET (UK)
Dean, Amity University
Professor, Computer Science & Engineering
Director, Amity Institute of Information Technology
Senior Vice President – RBEF (A Trust of Amity)
Advisor, Amity Higher Education Group
Founder Director, Amity University Summer School,
Founder Director, Amity Alumni Association,
Founder Director, Amity School of Engineering, Amity University, INDIA