CONCLUDING CEREMONY- AMITY CHANDIGARH
Date: 6/1/2010
AGBS Chandigarh organized the Concluding Ceremony of it's first batch of MBA students (2008-2010) on Tuesday, June 1, at it's campus.

It was a momentous occasion for all the students, faculty and staff of AGBS Chandigarh, a moment filled with excitement, nostalgia and emotions marked the beginning of the ceremony as Ms. Harman Mangat, Senior Faculty, AGBS Chandigarh shared her experience during the 2 years journey of AGBS since it's inception in Sept. 2008. She recalls the initial days when the students entered this institute thinking of fun, friends and a colorful college life and grown with time into a young enthusiast who is more focused and career conscious and knows what to achieve in life.
She remembered all the activities, events and summits, the corporate meet, which truly have been great learnings for the students and through their commitment and active participation, in no time Amity has become a known figure in Tricity. With utmost emotions she mentioned how dear the first batch has been and will always remain the best. She blessed them for a very bright future.

Present on the occasion was also Ms. Anupriya Jain, Sr. Manager-Academics, Amity Global Business School, HQ, Noida and Ms. Khushboo, HR, AGBS, HQ, Noida. Ms. Anupriya Jain on behalf of the foundation, showered the blessings of our respected founder president Dr. Ashok K Chauhan and respected president Mr. Atul Chauhan on the pilot batch and wished them success and luck for their future endeavors.
Prof. Shivali, Head AGBS, Chandigarh delivered her concluding address on the occasion which made each student very emotional and sentimental. She referred the Institute as her "own Baby" and stressed that their entire team was dedicated for all these two years to give the best of academic inputs, learnings of life to the students and most importantly inculcating human values to make them responsible citizens of Young India. She felt very happy and proud to see that their efforts culminated into a success story as each of the students today is well equipped to conquer the world. She shared how step by step Amity Chandigarh made progress and become a very high rated Institute of the region within short span of time. She acknowledged the immense contribution made by each Amitian in this wonderful journey. She urged students to carry forward the name of Amity with élan and as brand ambassadors take Amity to soaring heights.

During the ceremony much awaited Amity prestigious awards were given to outstanding students of the batch for their contributions in different spheres.

Towards the end of the ceremony, the students also shared their experiences during their stay at Amity Chandigarh. They thanked Prof. Shivali and other Faculty members for shaping their life and careers and making this stay amicable and fulfilling. They promised that they would always look forward to contributing towards the success of their Institute and will make Amity Chandigarh proud through their noble deeds.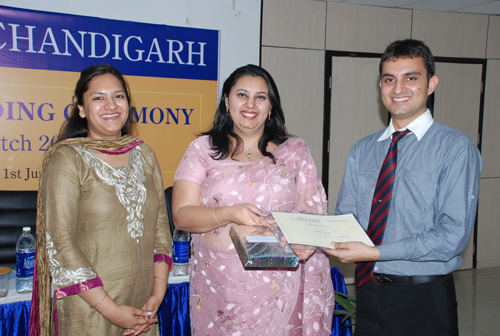 Student receiving award for excellent Corporate Relation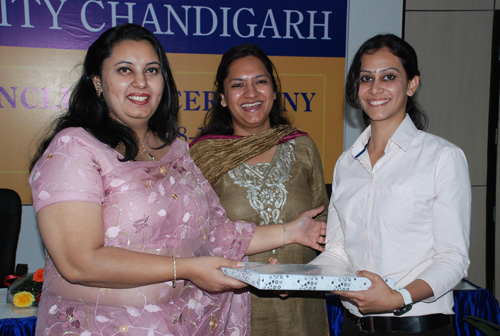 Student receiving academic excellence award for International Business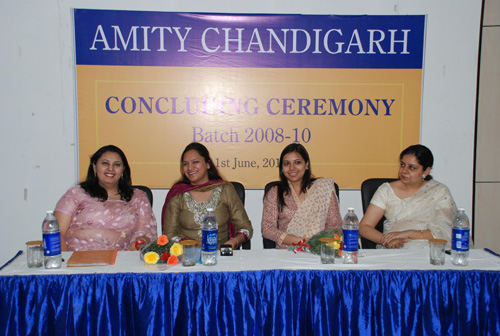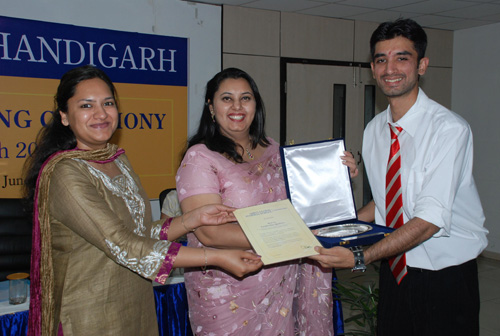 Prof. Shivali & Ms. Anupriya Jain conferring awards upon the winner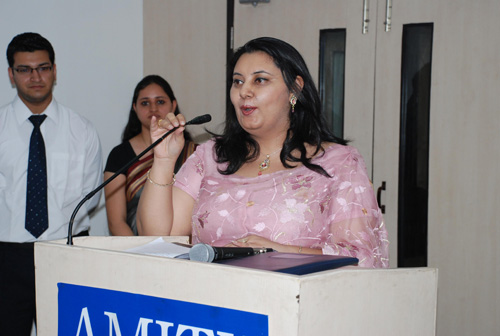 Prof. Shivali delivering the concluding address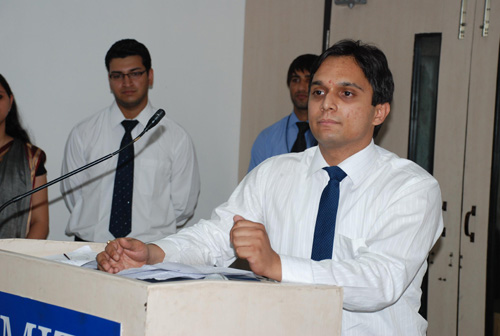 Student sharing their experience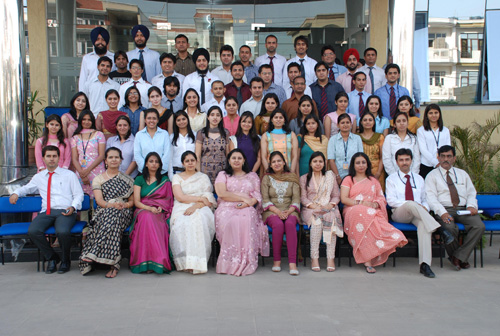 Students with the Faculty & staff