Good people are the success of any Organization. In AMITY it is our vision to bring together the best people and give them the best environment.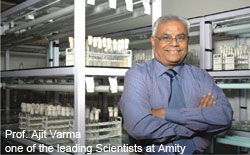 Amity University is part of the non-profit Amity Education Group with over 2 decades of excellence that includes 5 world-class universities, 17 schools & pre-schools, 150 top-ranked institutions and 7 international campuses across London, Singapore, New York, California, Dubai, Mauritius and Romania. One of India's leading education groups, Amity is home to over 95,000 students pursuing 240 Programmes in 50 diverse disciplines across pre-school to Ph.D.
The 3500 strong faculty have the distinction of filing the highest number of patents in the last years, besides developing the highest number case studies in the last one year. The faculty is also carrying out over 250 sponsored research projects with leading Govt. bodies like CSIR, DRDO and global institutions like Bill & Milinda Gates Foundation. These unique initiatives are reflected in Amity being recognised as SIRO (Scientific & Industrial Research Organisation) by the Govt. of India.
Positions are open for following areas :


If you want to excel as an academician, are highly ambitious, wish to be counted among the distinguished Directors, Deans, Faculty and/or research scientists globally, and are looking for an opportunity which provides you:
Conducive working environment
Assignment as per your taste
Opportunity to develop yourself professionally and personally and be part of an expanding organization
Salary and perks in accordance with the guidelines of UGC and other statutory bodies or even higher.
Then you are the right person for us.
Amity would prefer its candidate to apply online by clicking above button.
Otherwise they can e-mail their resumes to respective campuses mail ids as mentioned below:
Noida - careers@amity.edu
Lucknow - careers@lko.amity.edu
Jaipur - careers@jpr.amity.edu
Gurgaon - : careers@ggn.amity.edu
Gwalior - careers@gwa.amity.edu
As India's leading Education Group with campuses in 15 cities across India and 7 global campuses, Amity provides you opportunities to work and settle down at a place of your choice. A 50% subsidy is offered to children of faculty at Amity International Schools that are ranked among the best in the Country, besides a creche facility on campus. Amity also offers assignments to the spouse depending upon their qualification/ experience. To ensure professional growth for its faculty, Amity offers India's largest fellowship & Ph.D programme and provides domain and other faculty training & development programmes through the Amity Academic Staff College.